 Secure communication even over insecure networks.
Spectra is a powerful Identity and Access Management solution for M2M networks. Spectra implements FIDO2 standards for establishing the role of a Trusted Administrator who creates and manages perimeter-less applications involving an arbitrarily large number of devices communicating with other devices. Spectra is built upon the powerful combination of Authentication, Authorization, and Auditing, working together to ensure proper access to the right resources by suitable devices.
The top reasons for ransomware attacks:
Poor user practices
Weak passwords
Access management
The use of Open Remote
Desktop Protocol (RDP)
Lost/stolen user credentials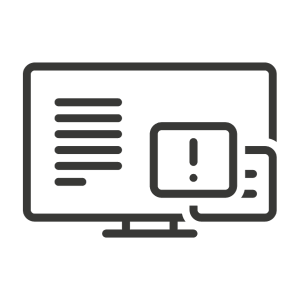 These issues suggest faulty human behaviour and a lack of proper policies, automation, and safeguards for compromising incidents. Secure networks alone fail to address the significant causes of malware attacks.

The Solution:
Spectra Module
Spectra is Algemetric's solution for Identity and Access Management, focusing on machine-to-machine communication. Spectra combines the power of the triple-A: Authentication, Authorization, and Auditing, in a single, lightweight, and powerful IAM solution. It is plug-and-play, scalable and can work as a standalone solution.
Lightweight
Spectra is designed for performance. The module's lightweight nature allows it to operate in a wide variety of limited infrastructures, including those composed of resource-constrained devices such as IoT and edge computing.
Flexible
Spectra allows Trusted Administrators to create applications, control which machines are allowed to be onboarded, define the rules of machine onboarding, and define which access control policy should be in place. The Trusted Administrator also has complete visibility of how the application behaves via Spectra's auditing features.
Plug and Play
Spectra is designed for interoperability. Spectra can be easily integrated with applications involving communication and resource exchange between devices. Spectra can also support third-party identity services by offering M2M capabilities in H2M settings.
Scalable
Device onboarding can easily become a bottleneck for large networks that contain hundreds or thousands of devices. Not for Spectra. There is no direct correlation between the number of onboarded devices in a Spectra application and the overall performance of that application.
Spectra protects access to any resource in any given machine, including any shape or form of data, application and service. 
Machines typically communicate with a domain name or IP address associated with some port. M2M IAM via Spectra is conducted via digital authenticator exchanges in which information about machine identity and access privileges are specified. Spectra API is invoked to verify the legitimacy and the constraints specified in any given token. Depending on what Spectra API sees in each digital authenticator (that is encrypted at all times and can only be decrypted by Spectra API), it returns an answer to the target machine that, in case the access request is legitimate, includes attributes that the target machine will use for authorization purposes.
All requests and responses between Spectra Dashboard, Spectra API, and Spectra SKD are encrypted at all times with single-use ephemeral secret keys. 
Want more details? Contact us.
Fill in the form on the side, we will get back to you shortly.